News from the Catholic Justice & Peace Commission of the Archdiocese of Brisbane which has been mandated by successive Archbishops to promote understanding of Catholic social teaching in the areas of justice, peace and the environment since 1985.
COP 26 Approaches
The formal meetings of world leaders at the COP 26 in Glasgow are days away. Our world is faced with immense challenges because of dangerous climate change. The scientific evidence is overwhelming. Swift and decisive action is needed.
Many of you have already been working to impress on our leaders the need for urgent action. What is certain is that our work will not end when COP 26 in Glasgow ends. We will need to continue our advocacy well beyond this year. As Christians, we will also need to direct attention to the way we live and to the spirituality which shapes our outlook.
Nothing about Us without Us!!!

In their recent Social Justice Statement, Australia's Bishops have stressed the importance of listening to the voices of First Nations people about caring for the earth. It is essential that our work for justice, peace and care for creation prioritises the concerns and advice of First Nations people in Australia and of Pacific peoples. They are already facing the harmful consequences of climate change and they have the least responsibility for it. In humility and respect, we should acknowledge their leadership in the struggle for climate justice. Unless we are committed to this way of acting, we have not heard the core message of Pope Francis' Laudato Si'. The Holy Father calls for a commitment to integral ecology. We need to hear the cries of the earth and the cries of those who are poor. In this current crisis, those who are the most vulnerable and have the least power must be at the heart of action to address it!
First Nations elders in Brisbane have been saying to us, loudly and clearly, "Nothing about us without us!" They are leading action to address the climate crisis and the social problems they face in Australia. The peoples of the Pacific are also seeking to shape the regional and global response to the climate crisis. They are living with the impacts of climate change right now. We need to listen to them and support their leadership in the struggle for justice.
In this spirit, I am sending messages on behalf of the Commission to Aboriginal and Torres Strait Islander elders and leaders and to church leaders in the Pacific offering our continued support for their priorities and their leadership during and after COP 26.
Supporting First Nations Leadership in Australia
The Commission encourages you to offer your support to campaigns led by First Nations people including:
Common Grace is running a number of actions on climate change as well as important issues like First Nations deaths in custody:
Our Islands, Our Home Torres Strait Islanders are campaigning for climate action to save their island homes from rising seas. Support the #TorresStrait8 who have taken action against the Australian Government at the UN for its failure to take action on climate change:
Get Up First Nations Team is taking action to support traditional owners who don't want fracking on their country. They are also taking action to provide food security in remote communities, to address the on-going shame of First Nations deaths in custody, and to protect sacred sites from being damaged by the activities of mining companies
The Wangan & Jagalingou Traditional Owners Council has waged a David and Goliath struggle against the Adani company so they can protect sacred sites on their country in central Queensland. Queensland Police recently declared that they would not remove Wangan & Jagalingou people from their country as they had a right to perform traditional ceremonies on their country under the Human Rights Act. I had the privilege of spending 2 weeks last year on country as part of the solidarity contingent in their Standing Our Ground campaign. Wangan and Jagalingou people are on country now, performing ceremonies. They invite us to come and join them in solidarity as they continue to defend their right to be on their country and protect their sacred sites. . You can offer your support in a variety of ways including going up to country as part of the solidarity contingent.
Supporting Pacific Leadership
In the days leading up to COP 26, the Pacific Conference of Churches (PCC) has issued a call for climate action. It is the result of 2 years of consultation across the Pacific. Please share this statement in your community, in your networks and with your MP. It may be found here.
Listening to the Call of Church Leaders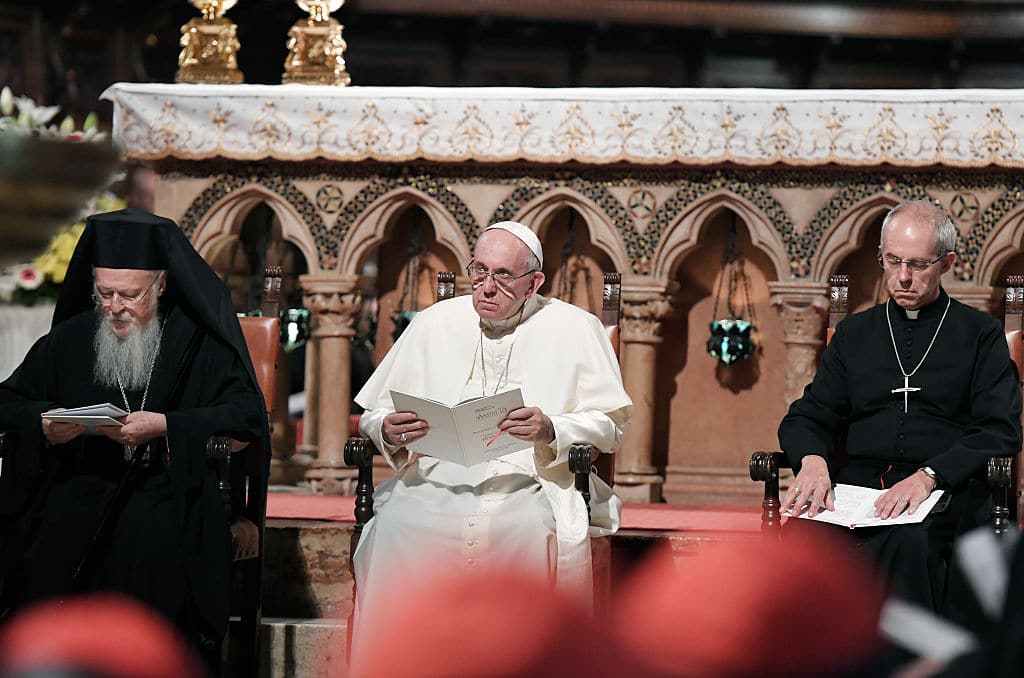 Pope Francis, the Archbishop of Canterbury, Justin Welby, and Ecumenical Patriarch Bartholomew recently issued a joint declaration offering us guidance in our response to the climate crisis. They called for 3 responses:
· Prayer for world leaders in the lead up to COP 26;
· Meaningful sacrifices by individuals for the sake of the planet;
· Actions by leaders which focus on people-centred profits and which lead us to a just and sustainable future.
As you reflect on their challenge, ask yourself how you will respond. You can read more here.
Calling for Action from Our Political Leaders
Please join the Commission which is sending messages to all Federal MPs in the Archdiocese. We are calling on them to support strong, urgent and decisive climate action which responds to the calls of First Nations people and of the peoples of the Pacific. E-mail them, ring their offices and even make an appointment to meet them to tell them what they should support. You can find contact details for all Federal MPs here.
A Climate Story from the Solomon Islands
A journalist friend in the Solomon Islands, Jeremy Gwao, has been investigating the impact of climate change on people living on Wagina Island in the Solomon Islands. They make a living by growing kelp, but things are changing as the climate changes. Jeremy's article underlines the urgent need for decisive climate action. It's well worth a read: